Food
Vegan Recipe ideas
Veg pasta bake
You can really use whatever veg you want for this, which is fab when you have lots of vegetables to use up!
Ingredients
Pasta
2 peppers
1 courgette
Mushrooms
1 Tin of sweetcorn
1 Tomatoes
1 tin of chopped tomatoes/passata
Olive oil
Vegan grated cheese
Salt, Pepper, Mixed herbs
Method
Chop up all the veg (not the sweetcorn obvs)
Throw it all in a big dish, drizzle with olive oil, season with salt, pepper & mixed herbs, cook for 10 mins at 200°C (180°C fan oven)
Boil pasta & drain when cooked
remove veg from the oven and add in the sweetcorn, passata/tinned tomatoes and mix well
Season again with salt, pepper and mixed herbs
if you want; top with grated (vegan) cheese and/or breadcrumbs
Bake for 15 mins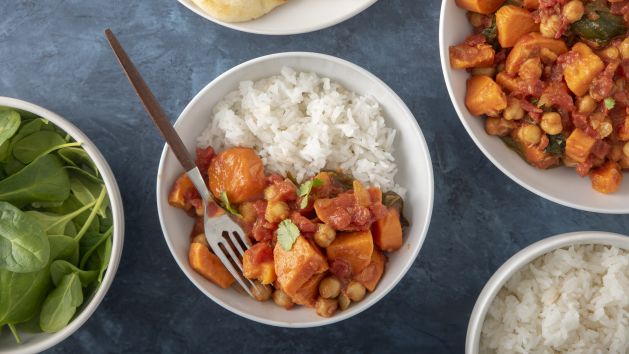 Sweet potato curry with spinach and chickpeas
Ingredients
1 large onion
2 tbsp curry powder
1 tbsp cumin
1 tsp cinnamon

fresh spinach (wash, stemmed and chopped)

2 large sweet potatoes (peeled and diced)

1 can of chickpeas (rinsed and drained)

1/2 cup of water

1 tin chopped tomatoes

basmati/brown rice for serving
Method
Boil the diced sweet potatoes in water until soft

While sweet potatoes cook, heat 1-2 tsp of canola or vegetable oil over medium heat.
Add the onion and cook until they begin to soften
Add the curry powder, cumin, and cinnamon, and stir to coat the onions evenly with spices.
Add tomatoes with their juices, and the chickpeas, stir to combine
Add ½ cup water and raise heat up to a strong simmer for about a minute or two.
Add the spinach, stirring to coat with cooking liquid.
Cover and simmer for about 3 minutes.
Add the cooked sweet potatoes to the liquid, and stir to coat.
Simmer for another 3-5 minutes, or until flavors are well combined.
Serve over basmati or brown rice.
Full English fry up
Ingredients
2 slices of bread
1 big tomato (chopped in half)
mushroom (chopped)
2 tsps olive oil/water
1/2 tin Baked Beans
3 veggie sausages
2 hash browns
Preheat the oven to whatever the hash brown packaging suggests
Method
Grill your sausages on medium heat, according to the instructions
Place your hash browns on a baking tray and put into the oven
Heat your oil or water in a frying pan over a medium heat
Add your mushrooms and stir slightly for 5 minutes or until golden brown
Heat the beans for around 3 minutes in a pan
Place tomato cut-side down in the pan and cook without moving for 2 minutes. Gently turn over and cook for a further 2-3 minutes until tender but still holding its shape.
Add bread to the toaster
Once all the ingredients are cooked, serve and enjoy

Topics