Food
Nom Wholefoods - delivering to Glenside now
We are excited to announce that @nomwholefoods - A local plastic free wholefoods delivery service is now delivering to Glenside. You may be just starting out on your eco journey looking for ways to reduce plastic and buy ethically. These guys make it easy.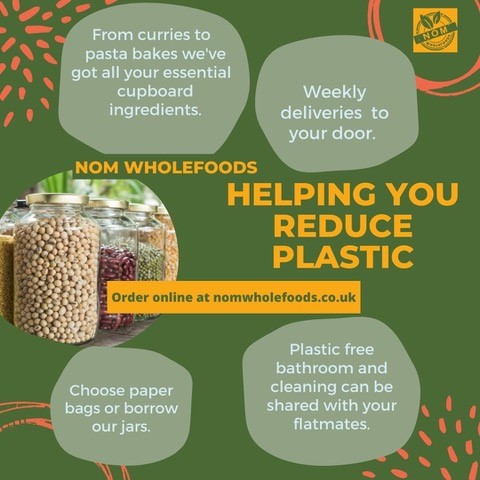 Instead of buying plastic wrapped food such as rice, pasta and cereals, you can order in paper bags to pour into your own containers at home. Don't have your own Tupperware or jars yet? No problem, you can borrow their jars (£2 deposit per jar). Choose your packaging when you order online and simply return the jars when empty.
They have all your store cupboard favourites and plenty of snacks to stock up on. We especially love their Eco Cleaning Starter Pack which has all the essential cleaning materials you need to keep your flat clean. The pack was put together with UWE students in mind and is designed to be shared amongst flatmates.
Nikki & Matt deliver weekly and are offering you 10% off your first order. Use code UWE10.
Topics