Campus
Introducing the Centre for Music
Music a great way to relax, take time for yourself, hang out with friends and make new connections. Whether it's singing, playing, making music at a computer, DJing or just watching and listening, music is for everyone. UWE Bristol is one of the only universities in the UK to provide music opportunities free to students as part of the university experience. Welcome to the UWE Bristol Centre for Music!
We are here for everyone at UWE Bristol. No matter what you are studying, or whether you are an expert or a beginner, we have fantastic opportunities for learning, exploring, performing and listening to music from classical and jazz, rock and pop, to underground, rap and electronic.
Based on Frenchay Campus, the centre is led by industry professionals who'll help you develop and perform at the highest level you can. You don't already have to have loads of experience though - we can get you started from scratch!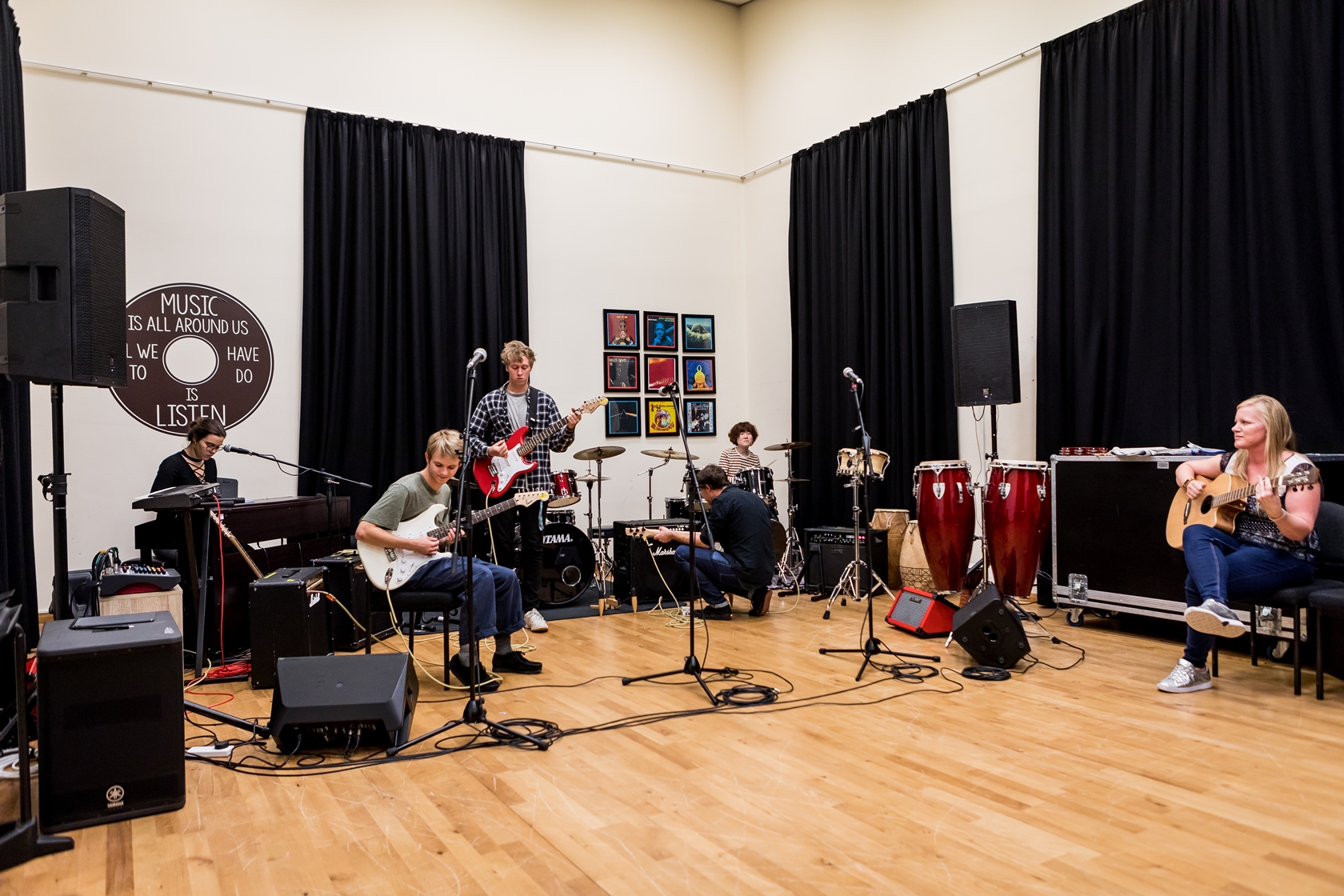 ©Tom Sparey centre for music
Online courses – courses in guitar tuition, Logic, Ableton, Building your own home studio and Songwriting. 1-2-1 Lessons in guitar, drums, violin/viola and voice. Just email cfm@uwe.ac.uk for more info

Singing and Playing – small woodwind and string ensembles rehearsing on a Thursday evening at CfM, online pop choir Technicolour – CfM will pay for 20 student places. UWE Singers classical choir on Tuesday evenings directed by professional conductor & tutor Elinor Cooper

Use our spaces – As lockdown eases, Centre for Music is more widely open for members. Our rooms can be booked just 7 days in advance (or sooner if you contact us directly), the 2 large rehearsal rooms have a 6 person capacity and we can have more than 1 person in the smaller rooms. Late opening is on Monday and Thursday. We ask you to remain cautious and continue to have regular lateral flow tests so we all stay safe and can't wait to welcome you back soon.

Special events and competitions – Dubplate competition – styles you'd hear on the Radio 1 Xtra playlist (e.g. Hiphop, RnB, Drum and Bass, UK Garage, Grime, Dubstep). We are looking for the best completely original track/song in urban/underground music created by UWE students. It may be instrumental or have vocals, but if instrumental it needs to feel complete without the vocal i.e. not just a backing track for an MC. Email cfm@uwe.ac.uk for more info
Topics