Accommodation
Glenside & The Hollies | Post and Parcels
The Glenside Post Room provides a complimentary service to ensure the safe/secure receipt of your parcels.
It is situated in H-block (1H027) in the Accommodation Office near the Traders Café and is for students residing in Glenside and Hollies accommodation. If you have trouble trying to locate the post room you can use the UWE Find A Room app here.
Current post room opening hours :
Monday to Sunday 19:00 - 20:00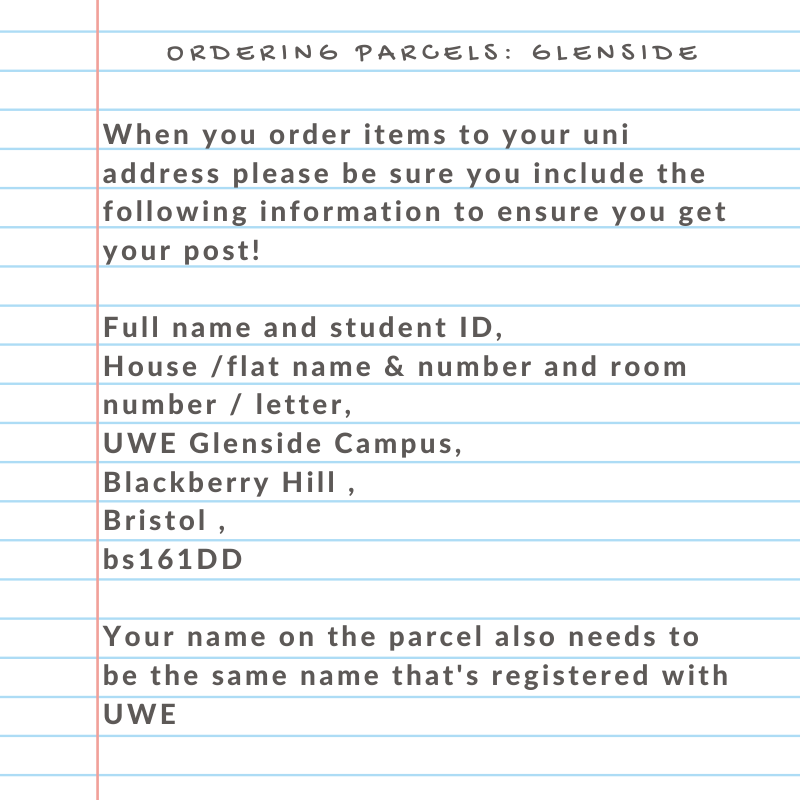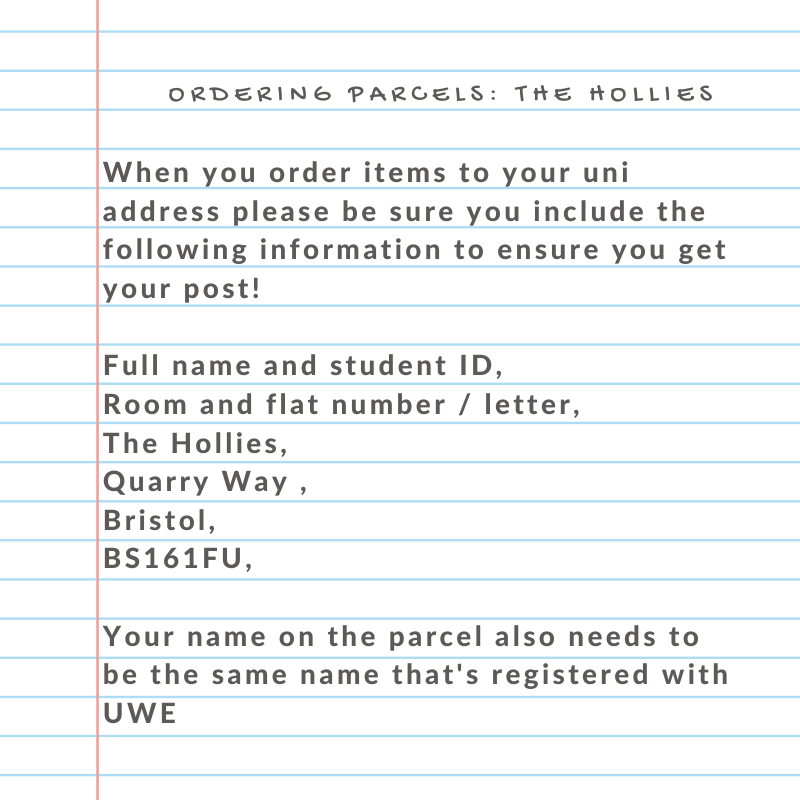 Royal mail and Postboxes
 Mail is delivered to the post boxes located in the corridor between Car Park 4 and 5.
Your post box is the same number as your house/flat & is shared with your whole house/flat
All postboxes are secured with coded padlocks, codes have been sent to your email. If you haven't received this please contact Accommodation Services, contact a Resident Assistant if you're not sure of your code
Please check your post box regularly and ensure that the padlock is secured afterwards.


Ordering parcels via a courier
Couriers should always try to deliver directly to you, either at your house or via the intercom to your flat
Arrange a delivery time that you are available
If you are not in the courier will deliver to the post room
Collecting parcels from the post room

The Resident Assistants open the post room from 19:00 - 20:00 each day, they will process your parcel and send you an email when its ready to pick up
Please ensure you use the hand gelling stations nearby before and after collecting your post, When collecting items from the post room only one person can access the area at any one time, we encourage you to wear a face covering must be worn when collecting your post or parcel
Due to data protection and privacy laws, we are unable to release your parcel without any photo ID (student ID, driving license/ passport). Please bring one form of ID to avoid disappointment.
If we haven't sent you this email notifying you to come and collect something, your parcel is not ready to collect and we will not be able to let you to collect it.
BE AWARE: even if your courier notifies you that your parcel has been delivered to us, you cannot collect it from us until we have processed it and emailed you ourselves.
You have 14 days to collect your parcel from us, after this period it will be returned to sender
The post room does not operate a returns service

Processing, collecting and returns
If you use our complimentary service, be aware that parcels can take up to 48 hours to process - maybe longer if it is over a weekend/bank holiday.
During busy periods, e.g. Black Friday, processing can take +72 hours. Therefore we recommend you always be in to receive parcels, or make an order as far in advance so it is available to you when you need it.
Collecting on behalf of a friend
You can nominate a friend to collect your parcel
But first you must email us your full name and student ID, request for a friend to collect it and provide their name and student number
They will need to bring their student ID when they collect this for you
Sending letters and parcels
The nearest place to send parcels is the Co-op in Fishponds
Topics