LOCAL
Christmas in Aberdeen 2021
Aberdeen Christmas Village
Broad Street - Thursday 18 November - Friday 31 December
In partnership with Codona's and Aberdeen Inspired, we are thrilled to bring the Aberdeen Christmas Village back to the city centre. There is something for the whole family including a spectacular outdoor ice rink, local Christmas Market, food & drinks and a wonderful festive fairground with both new and returning attractions.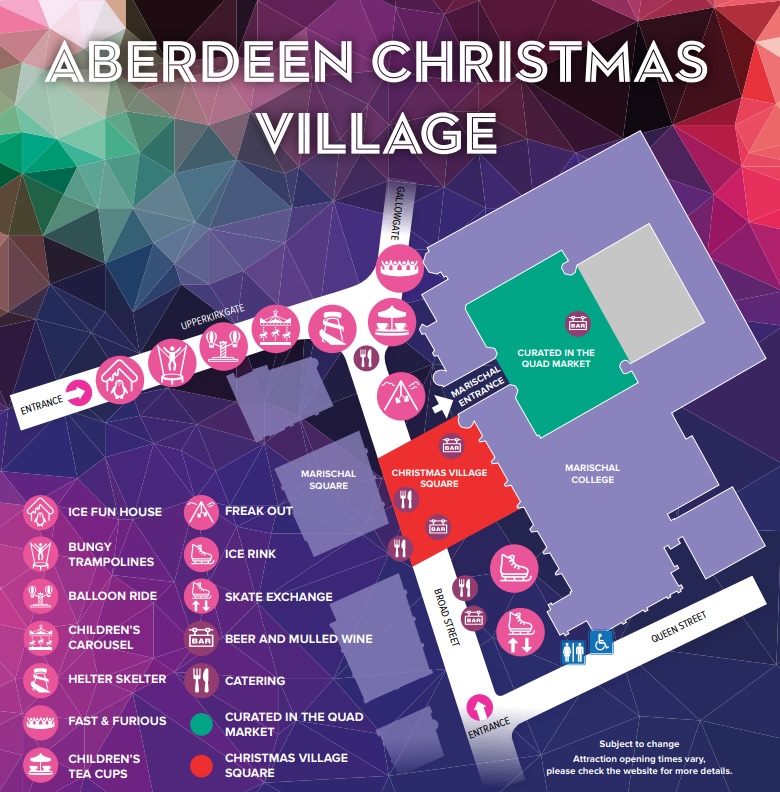 Open Air Ice Rink
Monday - Thursday, 12pm - 11pm (School Holidays, open from 11am Monday - Friday)
Saturday & Sunday, 10am - 10pm
£7 per session (Adult or Child) for 20 minutes, including skate hire.
Against the beautiful backdrop of Marischal College, skate on real ice under twinkling fairy lights while your family and friends watch from the viewing area and enjoy the refreshments on offer within the Village.
We will be hosting a Relaxed Skating Session on Thursday 23 December 10am - 11am with low music and no strobe lights and aim to make this as inclusive as possible. For further information email: sales@codonas.com.
Festive Fairground Rides
Monday - Thursday, 12pm - 11pm , Friday, 12pm - 12am (School Holidays, open from 11am Monday - Friday)
Saturday, 10am - 12am, Sunday, 10am - 11pm
*children's rides close at 8pm daily.
The fairground rides available are:
Ice Fun House (£3 or £5 Adult and Child)
Bungy Trampolines (£5 per person)
Balloon Ride (£3 per person)
Children's Carousel (£2 per person)
Helter Skelter (£2 per person or £3 for parent and child)
Fast and Furious (£3 per person)
Children's Tea Cups (£2 per person)
Freak Out (£4 per person)
Thrill seekers will be excited to see the return of the popular Freak Out and Fast & Furious. For our younger visitors, festive favourites such as the Helter Skelter and Candy Cane Bungee Trampolines return along with the fantastic new Ice Fun House.
Village Square
Food and Drinks: Monday - Thursday, 12pm - 11pm Friday, 12pm - 12am (School Holidays, open from 11am Monday - Friday)
Saturday, 10am - 12am Sunday, 10am - 11pm
This year we have the new 'Village Square' which will be located at the heart of Aberdeen Christmas Village which draws on inspiration from European Christmas markets. This is an open plan area with covered seating, where families & friends can come together to spend quality time and celebrate the festive period.
The Village Square provides a comfortable relaxed environment to enjoy a selection of street food which includes German Bratwursts from the Swing Grill, Dutch pancakes from the Sweet Haus and mulled wine and beer from bar. Visitors can also enjoy a selection of outdoor festive games in the area free of charge.
Soak up the festive atmosphere and enjoy haggis bon bons and venison burgers from the Wee Kitchen, as well as sweet seasonal favourites from the Sweet Haus which includes Dutch pancakes, churros and the welcome return of the indulgent Bailey's Hot Chocolate.
Curated in the Quad
Friday 12pm-7pm, Saturday 11am-7pm and Sunday 11am-6pm.

Our popular open-air Christmas Market returns to Marischal College Quadrangle from Friday to Sunday in the lead up to Christmas. Curated by Charlie House the event will showcase a unique line up each week of locally produced crafts, arts and gifts, along with gourmet food and drink.


Charity partner for 2021 is Charlie House.

Aberdeen Christmas Village is brought to you by
Topics