ResLife
Spooky & Scary Films on Netflix & Amazon Prime to watch this week
It's officially the Halloween week! While the parties are cancelled (thanks to this exciting year: 2020 – we'll never forget you!), how about a spooky night in? Here's a list of films available now on Netflix and Amazon Prime now.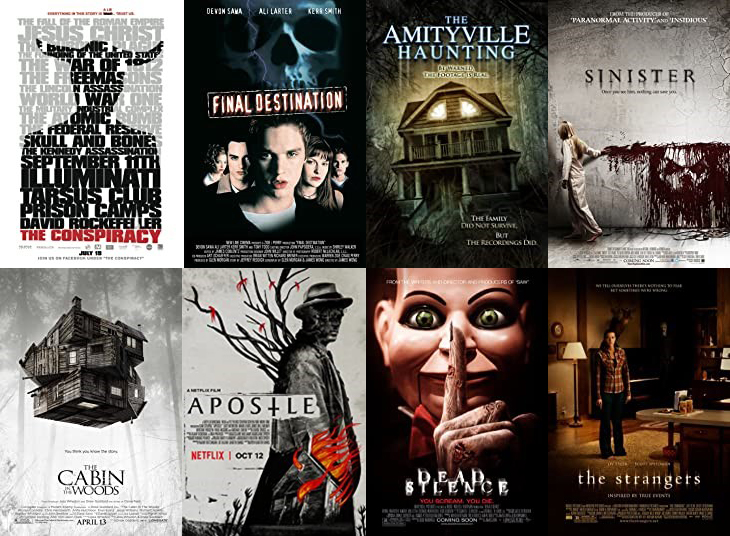 1) The Conjuring (2013)
Paranormal investigators Ed and Lorraine Warren work to help a family terrorized by a dark presence in their farmhouse. (Imdb)

2) Sinister (2012)
Washed-up true crime writer Ellison Oswalt finds a box of super 8 home movies in his new home that suggest the murder that he is currently researching is the work of a serial killer whose work dates back to the 1960s. (Imdb

3) Hereditary (2018)
A grieving family is haunted by tragic and disturbing occurrences. (Imdb)

4) Apostle (2018)
In 1905, a drifter on a dangerous mission to rescue his kidnapped sister tangles with a sinister religious cult on an isolated island. (Imdb)

5) Misery (1990)
After a famous author is rescued from a car crash by a fan of his novels, he comes to realize that the care he is receiving is only the beginning of a nightmare of captivity and abuse. (Imdb)
6) The Cabin In The Woods (2012)
Five friends go for a break at a remote cabin, where they get more than they bargained for, discovering the truth behind the cabin in the woods. (Imdb)


7) A Quiet Place (2018)
In a post-apocalyptic world, a family is forced to live in silence while hiding from monsters with ultra-sensitive hearing. (Imdb)

8) Dead Silence (2007)
A young widower returns to his hometown to search for answers to his wife's murder, which may be linked to the ghost of a deceased ventriloquist. (Imdb)

9) The Visit (2015)
Two siblings become increasingly frightened by their grandparents' disturbing behaviour while visiting them on a vacation. (Imdb)

10) The Visit (2015)
Two siblings become increasingly frightened by their grandparents' disturbing behaviour while visiting them on a vacation. (Imdb)
Amazon Prime

1) Insidious (2011)
A family looks to prevent evil spirits from trapping their comatose child in a realm called The Further. (Imdb)

2) Midsommar (2019)
A couple travels to Sweden to visit a rural hometown's fabled mid-summer festival. What begins as an idyllic retreat quickly devolves into an increasingly violent and bizarre competition at the hands of a pagan cult. (Imdb)

3) Ghost Ship (2002)
A salvage crew discovers a long-lost 1962 passenger ship floating lifeless in a remote region of the Bering Sea, and soon notices that its long-dead inhabitants may still be on board. (Imdb)

4) The Shining (1980)
A family heads to an isolated hotel for the winter where a sinister presence influences the father into violence, while his psychic son sees horrific forebodings from both past and future. (Imdb)

5) 30 Days of Night (2007)
After an Alaskan town is plunged into darkness for a month, it is attacked by a bloodthirsty gang of vampires. (Imdb)


6) The Babadook (2014)
A single mother and her child fall into a deep well of paranoia when an eerie children's book titled "Mister Babadook" manifests in their home. (Imdb)

7) The Amityville Haunting (2011)
In disregard of the shocking DeFeo murders, an unsuspecting family moves into the infamous house on 112 Ocean Avenue. Now, ghostly apparitions start to appear in their video surveillance system. Can they survive the Amityville haunting? (Imdb)

8) The Strangers (2008)
A young couple staying in an isolated vacation home are terrorized by three unknown assailants. (Imdb)

9) The Conspiracy (2012)
A documentary about conspiracy theories takes a horrific turn after the filmmakers uncover an ancient and dangerous secret society. (Imdb)

10) Final Destination (2000)
After a teenager has a terrifying vision of him and his classmates dying in a plane explosion, he saves himself and a few others only to have Death hunt them down one by one. (Imdb)

Have you found 1 or 2 films that you like? These all come recommended by one of the biggest horror films fans, so if you haven't heard of some of these films, it may be a good idea to try something new and watch it this week!

Topics