ResLife
Reslife:Travelling safely on the train during COVID
Times are certainly turbulent right now and its important we all stay aware of the most recent government guidelines. If you find yourself needing to get the train this blog is for you! As a commuting student I have found myself travelling on two trains a day and come up with a few tips on how to do so as safe as possible.
Government guidance
Face coverings are mandatory on public transport across the UK.
Travellers are advised to:
Travel at off-peak times
Take a less busy route and reduce the number of changes
Buy a ticket in advance where possible, or use contactless payment
Keep at least 1m away from people "where possible" and take "suitable precautions"
Wash their hands for at least 20 seconds after completing their journey
Keep your distance
Try your best to socially distance on the train, after wearing your mask this is the next most important thing you can do to protect yourself and others on public transport. Keep a 2m (or two row) distance and try at minimum at least 1 row away. In a study of transmission of the disease in China it was found sitting in the same row was worse than sitting behind someone. so make sure you're sitting in the window seat . Don't be afraid to move seats or change carriages if you want to look for extra space. As a daily commuter, I've found that the front carriages tend to be emptier than the middle and rear, basically if you see people crowding together at one area go to a further part of the platform.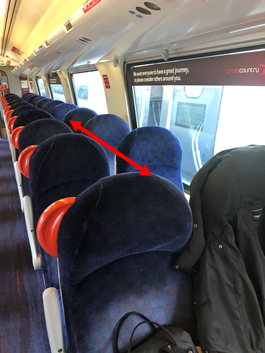 Avoid moving through carriages

Try stay away from other passengers as much as possible. There is guidance in place on trains advising passengers not to move through carriages and there is a limit of one passenger at a time in the stop. Follow these guidelines and avoid unnecessary movement throughout the train.

Sanitise
Touching surfaces, though not the primary way of contracting the virus, may also become contaminated with coronavirus. Many stations now have sanitiser provided but you should still try and carry you're own with you to use as you enter the station and on the train. I like to sanitise once I'm seated in the carriage and when I've left the station.
If you're on a long train 45 mins or more and fancy doing some work on your laptop (or watching the movie you just downloaded) I like to use anti-bacteria wipes or tissue and sanitiser to clean the surface before I place my laptop down.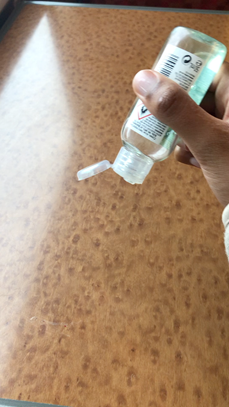 Wear a mask

Im sure you all know by now it is a legal requirement to wear your mask in public areas such as supermarkets and most definitely on transport. Try not to touch your mask too much and use a well-fitting one.

Minimise contact and wash your clothes
Some good news is that studies have found that using the same seat as someone had has coronavirus doesn't significantly increase your risk of catching the virus. That being said, there are still some general precautions you can take to stay safe.

I've gotten into the habit of never wearing the clothes I wear outside indoors. As soon as I get home I change my clothes so that the clothes I wore on the train won't be worn on my sofa, on my bed or anywhere else in the house. As you can see in the picture I also like to put my coat on the seat so that my hair and top isn't touching the train and there is a little mini barrier there.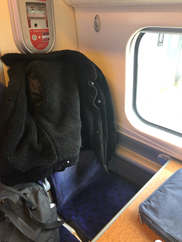 Stay Safe!
Written by Suzanna Jones :) 
Topics