ResLife
A day in the life: My lockdown routine
COVID has completely impacted so many of our lives over the past 10 months. Students, like so many others, have been forced to become adaptable and change their daily routines.
The last few weeks have for me and I am sure so many others, been hard to adjust to. The UK lockdown round 3 has made us stay inside our houses or accommodation, to protect ourselves and others around us.
In the past few weeks, I have started to form a routine to help keep myself busy during the day as well as deal with the uncertainty which is still around.

This is what my typical routine looks like right now in lockdown day-to-day:


9:00am – 9:30am – Waking up
Up until the holidays began, I was usually quite good at waking up (and would very rarely snooze my alarm). However, as of late, I have definitely been sleeping in longer and do occasionally snooze my alarm a few times (hence the 9-9:30 am wake up).
TIP: I now charge my phone over at my bedroom desk at night so I have to physically stand and walk over to my desk which also encourages me to wake up (as well as less screen time before bed!)

10am – Breakfast, watch and social media
Breakfast is literally my favourite meal of the day (I am the BIGGEST fan of cereal :D – I have 5 different kinds in my cupboard at a time, so I never get bored!). I usually prepare some cereal, along with an Actimel Cultured Shot (highly recommend these for the wintertime especially). When I eat my cereal, I won't lie in saying that I am usually watching Netflix, or my new favourite series discovery, called Billions (HIGHLY RECOMMEND if looking for a new show to watch, and there are 5 seasons, so plenty) I will usually do this at my desk for an hour or so, as well as catch up on Instagram and Facebook.
12pm – Shower and get ready
At around 12pm, I usually take a quick shower, do my skincare routine, brush my teeth so that I am then ready to go on a walk. I put my new Fitbit on and trainers, pick up my earphones and facemask and I am ready to go.

12:30 – 1:30pm - Daily Walk
Through most of the lockdown, walking has been often the only reason that I leave my accommodation. I don't really enjoy doing much exercise, but whenever I do walk and get the fresh air, I always come back feeling 10 times better. I don't have a specific route but I often like walking up to Canal Basin (not far from Bishopgate Accommodation) and take any leftover bread from my flat to go and feed the ducks. I often also go and pick up a coffee too, since they're allowed to be open and I like supporting cafes. (I often also take my own coffee or hot chocolate in a flask to save money too ;) )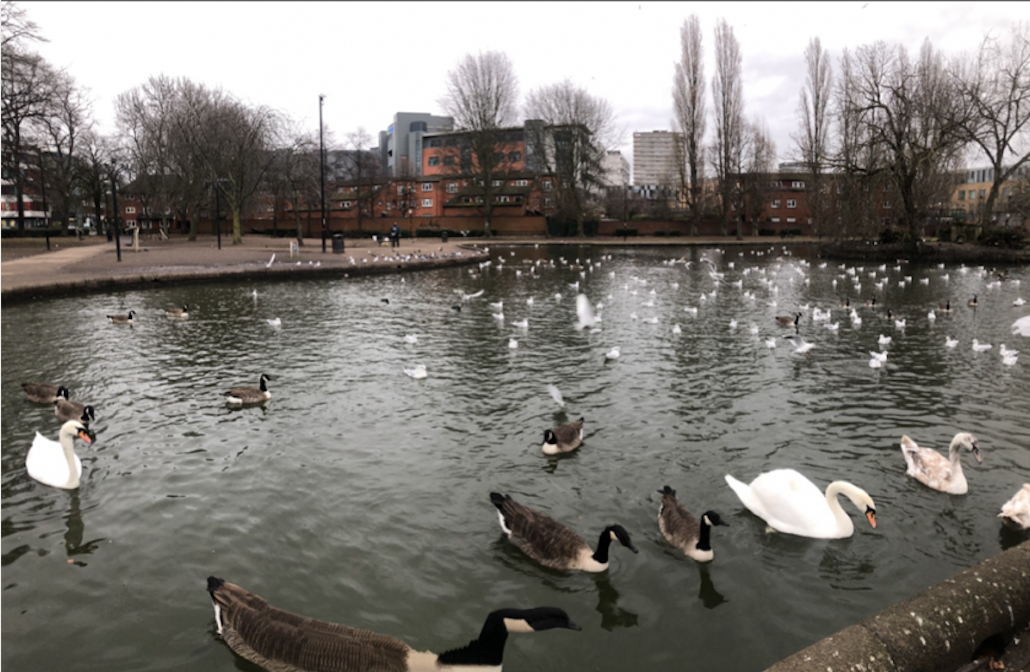 2pm - Lunch
When I get back from my walk, I am usually quite peckish. Depending on how far I have walked, sometimes I take another quick shower and always change into some clean loungewear (I never used to wear tracksuits, but now I am absolutely obsessed with them :D ) or PJ's (I have never worn Pjs this much than ever before) For lunch, I will often make a little picky lunch.

My faves at the moment are a few spoons of pasta salad, a couple of mini pastries, some crackers and cheese and then some fruit (for the balance). Again, I usually eat my lunch whilst watching a show, or often video calling a family member or friend to catch up.
3-5pm – Afternoon Activities
My afternoon can vary day by day. Sometimes I may be writing some blogs for Reslife (as I am this one) or I could be persuaded into a friend group video call for 3 hrs :D. Either way, I do try and keep myself busy and try and call/ message one person a day for a catch up because it not only helps me but it also helps them (they are going through the same thing!).
Usually, the walk makes me come back home with a greater energy level than I had before, so I try and utilise this energy before I start feeling a bit tired.
Recently, I have been having a good clear out of my clothes and room (I have two bags of stuff for the charity shops when they re-open) and have actually begun to like cleaning my room and keeping it nice and tidy (probably because I am in it most of the day!).
Other days, I may fill my afternoon by going to do a food shop. Lidl is my absolute fave at the moment (OMG, you need to try the croissants). I like going to Lidl as it takes around 15 mins to walk there each day so sometimes I get two walks into my afternoon.
TIP: If your meal plan, it will help you budget better with food shopping, so you don't buy any unnecessary food!)
5pm – Dinner Prep and Cook
At around 5pm, I then start thinking about dinner. Some weeks I do often meal plan so I may cook the meal I was due to make, but often I am spontaneous and cook something else. For me, cooking a dish or following a recipe really helps me to focus on something else, forget about other things that are going on in the world and also help me learn a new skill!
My fave meals to cook at the moment are salmon penne pasta, chicken and mushrooms in cream and carbonara (Watch out for my Reslife Tiktok carbonara video). These meals are so hearty and warm, easy to do and also require very limited ingredients too! On this particular day, I made some carbonara...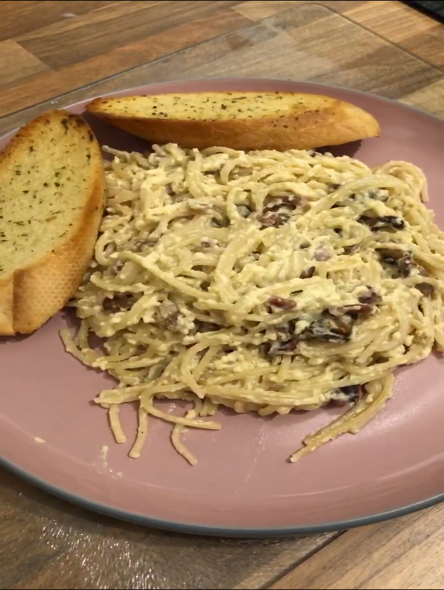 6pm – Eat and Chill
At around 6pm, I will sit down with my food and chill. A lot of the time again I could be sat watching something on Netflix or speaking to a friend/ family member. If I am at my desk, sometimes I also write out a to-do list of what I want to do the following day (but less so in the holidays).
7pm – Self-care
I always like to do some sort of self-care in the evening. Sadly, I don't have a bath (as otherwise, I would be having baths nearly every day). For me, my favourite things are doing my skincare routine followed by a facemask, eye mask and painting my nails. I don't do these things each day but try to do them alternate days. I also put my onesie on and eat some chocolate after this (chocolate is classed as self-care right ;) )
7:30pm – 11pm – Evening relaxation
After doing my self-care routine I then go back into my bedroom, get some more choccies and put a film on. Recently, I have been really into watching the Marvel Series of films, so I usually curl up on my bed under my bedsheets and blanket watching Iron Man or The Hulk. I do also love romantic films and find myself watching classics like Love Actually!
11pm – Bedtime
I try and set myself a rough bedtime. I am never strict about this, but for me, it helps me try and not oversleep too much the next morning. At around 11pm, I will set my alarm charging on my desk, brush my teeth quickly and put my retainers in (I honestly feel for anyone who also wears them). I then blow the candles out, turn the lights out and head to sleep!

No matter what your daily routine looks like, there is no right or wrong. Lockdown is hard for most of us students and sometimes getting out of bed or going for a walk is a small victory! I praise myself for doing a daily walk or cooking my dinner from scratch! Make sure you praise yourself too!
Topics