SING, the latest animated film full of fun, laughs and of course singing. Anyone who loves watching animals as if they are people, with the characteristics of humans and the ability to sing, then this is the film for you!
The film offers a variety of animals the chance of a life time of winning '$100,000' at Buster Moons singing competition. Characters who enter this competition are just every day characters that anyone can relate too, so I will discuss a few in this blog.
We have the mother figure, Rosita, who spends her day looking after her 25 piglets and having a husband who constantly relies on her. She often sings in her spare time and this is her chance of doing something for herself and having that little bit of freedom away from mundane house chores. Rosita soon transforms into a super star and ditches the pink shirt and jeans and swaps it for a sparkling back cat suit.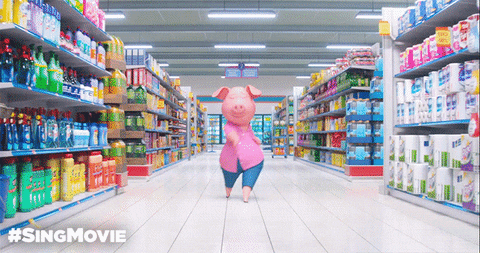 Then there is Johnny, the young teenage gorilla who's passion is singing. However, his Father has alternative plans for him. Johnny's home life is associated with his Dad's gang and all he is used to is crime and theft. He wants to escape his home life by singing, as this is his dream. Johnny decides to put his singing voice to the test and enter the competition of a lifetime, even though his father at first doesn't approve he soon realizes that wanting something different in life isn't actually that big of a deal.
The next main singer who the audience can relate too in SING, is the rock chick porcupine, Ash. Ash and her boyfriend are a duo but the potential is only seen in her. She takes the opportunity to go solo and follow her dream but her boyfriend soon replaces her with someone else, leaving her heartbroken. To get over her ex, she begins writing her own song which becomes a massive hit with the audience, #girlpower.
SING allows people to be themselves and follow their dreams, it shows people that they can achieve their goals and get over any fears they may have which is a great thing to take from a film.
Watch the trailer here.