We know that moving in can be daunting, so here's some tips to break the ice and help you feel more comfortable during Welcome.
Get Social
Before you move in to Halls you will be able to join the Halls Groups on Facebook and this is a great way to meet your new flatmates before you arrive. Be open-minded in your conversations and take time to get to know each other, while leaving some topics of conversation for when you actually meet IRL! This is guaranteed to make you feel more at ease on Move In Day.
Welcome Events
During welcome week you'll be bombarded with event invitations - and attending alone can be daunting. So, ask your flatmate! Even if you don't know each other well yet, a familiar face will help you come out of your shell ... and if you are brave enough to go it alone then good for you! There's loads of Halls Events during Welcome, as well as the Guild's programme for all new students, so there's no shortage of stuff to get stuck into. Remember there will be a lot of people there by themselves so do your best to start conversations and make everyone feel welcome too.
Put some music on
Even if it's while you arrange your room or unpack your shopping, play your favourite album! It'll make your room more inviting for flatmates to knock on your door and introduce themselves - especially if you share the same music taste ... and even if you don't, at least it's a conversation starter!
Offer food or drink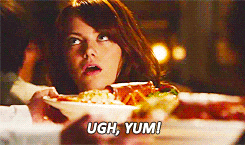 Get a tube of pringles or a pack of jaffa cakes and get sharing! Students love food and having something to offer can help break down boundaries and give you something to talk about from the off. Likewise, all talking about what to do on that first night? Cook together! It will give you something to do while you talk and get to know each other.


If there's one thing to remember it is that everyone is in the same situation! Your flatmates will be just as eager to meet people, so just enjoy it and don't feel under pressure to be part of a close group straight away.
We've provided this handy 'Mentally preparing for uni' guide to help you in the run up and once you're here.
The Halls Life team will also be providing plenty of opportunities to meet people outside of your flat as the weeks progress, so make sure you keep up the enthusiasm and enjoy making new friends!