You have to admire anyone and everyone that has done the gruelling London Marathon...
But there is a special appreciation for those who make a complete fool of themselves by pushing their bodies to the extreme in ludicrous costumes.
Here's a pick of the best that have come and gone over the years.
It's the age old question... Who came first?
The chicken or the egg?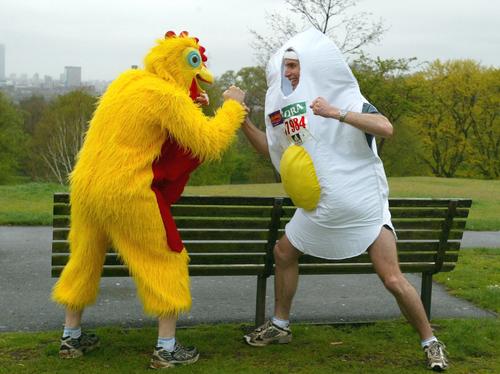 Not the gumdrop buttons!
No doubt this gingerbread man will be feeling baked by the finish line.

Belle looking slightly more Beastly than Disney Princess.
DAMSEL in distress? We think not...



All the exercise is making this guy a little flushed.
I'm sure Paula Radcliffe could have done with him a few years ago...


chucks-fun
Time to call it a day?
It looks like this runner is ready to use his costume to phone a friend.

A right royal affair!
I wonder if these two were smiling so bright behind those masks.

Too Spicy for ya?!
This Peperami must be feeling the heat!

Looks like these guys caved and decided to take the bus.
Although not quite the lazy decision it may seem...


London-Underground

It's a long way to run for these runaway brides!
But for once the dress and trainers combo is paying off...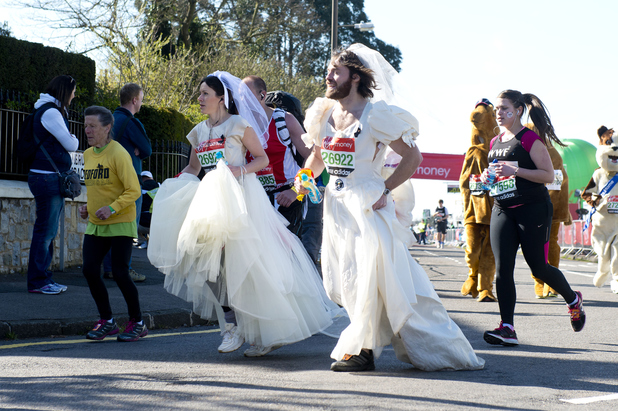 Look out for some more whacky costumes at this year's London Marathon on the 23rd April!